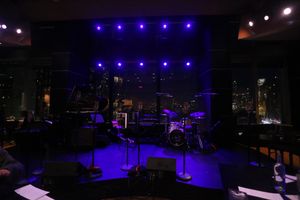 Guitarist JC Stylles is that rare artist who knows how to fire up a crowd with some relentless swing, cool them out with a relaxed groove or a beautiful ballad, and then reignite the blaze with a burning tempo that only a full fledged master instrumentalist could conjure. Veteran jazz guitarist Rodney Jones has championed Stylles as a "keeper of the flame" and offers this high praise for his young descendant:"In an era where so little is genuine and real, Stylles has succeeded in capturing honesty and integrity, while swinging you to death. He shares his heart and soul and just plain makes you feel good. You can feel him in the notes and after all, that is what has always made the best jazz."
JC Stylles, whilst originally from Australia, first appeared in New York City from 1992-1995, before making it his permanent home in  2005, whereupon he released the recordings "Chillin' at Home" and "Live & Unveiled"  of which both are in the guitar/organ trio format, where he has staked his claim. He also concentrated on performing with the best Jazz Organists in the business including, Jimmy McGriff, Dr Lonnie Smith, Tony Monaco, Pat Bianchi, Kyle Koehler, Seleno Clarke, Jimmy "Preacher" Robbins, Mel Davis, Nathan Lucas, Akiko Tsuruga and others. 
Not long ago the guitar-organ-drums trio seemed destined to become an almost forgotten relic of the jazz continuum, but it has recently been revived once again to take a prominent place in the music's landscape-and this time driven by the up-front guitar of JC Stylles, and in a manner capable of expressing a panopoly of emotions to a multiplicity of listeners of varied tastes.
On "Exhilaration and Other States", released by Motema Music on July 12th, 2011, which received countless rave reviews, and was featured on the USA Radio Jazz Charts Top 50  for 12 plus consecutive weeks , JC Stylles proves that he is an important contemporary voice in the genre, moving it forward while preserving its rich history, blending yesterday and today for a more swinging tomorrow.
His most recent release "Blakey Grease", a tribute to Art Blakey in the Organ Combo setting, won the award for highest debut at #15 on the USA Jazz Charts Top 50, before racing up into the Top 5, and being heard right across the USA radio waves for over 15 weeks!
His 2 current Organ Trio's  feature the option of  Downbeat Rising Star winner Pat Bianchi on organ, and Drummer extrordinaire Byron Landham on Drums, or alternately the "Pitbull of Groove" Kyle Koehler on Organ, and Grammy Winning Drummer Lawrence Leathers.
 
A list of just some of the New York Venue appearances includes (but not limited to): The Apollo Theatre, Small's Jazz Club, Smoke Jazz Club, Mezzrow, Dizzy's Club, Lenox Lounge, The Bar next Door, Showmans Jazz Club, The American Legion Post, The Carnegie Club, Charlie O's, Swing 46, Perks, Minton's PlayHouse, Rue 57,Cachaca',The Essex House,Creole's, Fat Cat, Trumpets, The Martinique, The Zinc Bar... and many more!
Visit the Home index above for in-depth samples including Music, Video, Press, Photo's and more.
Contact JC Stylles directly at jcstylles@jcstylles.com 

 Please direct all Motema PR enquiries to Cary Goldberg at Go Media on 434-293-6633 or at cary@gomedia.com
........................................................................................................................................................................