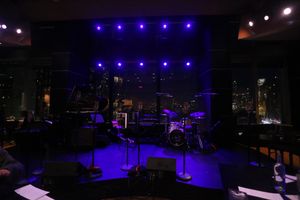 New York based Jazz Guitarist JC Stylles (aka Jason Campbell) first touched a guitar  around 7 years of age, and was introduced to the world of jazz in the most unlikely of places, that being in the rainforests of Kuranda, a tiny, predominantly aboriginal town in the tropics of Far North Queensland Australia, via his stepfathers jazz record collection.
At 16 years of age he left the rainforests for Sydney where significantly in his development, he had the opportunity to attend 2 shows a night for nearly a week in front row seats of the touring jazz guitar great George Benson. This sponge-like absorption at such a close range left an indelible mark in his development long term as a guitarist. 
He also had the opportunity simultaneously to study with an incredible array of touring jazz giants at the time that included John Scofield, Steve Erquiaga, Miroslav Vitous, Woody Shaw, Johnny Griffin and others. Having initially immigrated to New York in 1992, he continued studies with the likes of Pat Martino, Tal Farlow, Rodney Jones, John Abercombie and Barry Harris and further developed his skills in clubs like Visione's before  returning to Australia in the mid-nineties for personal matters. 
JC Stylles relocated permanently back to New York in 2005 where he released the recordings "Chillin' at Home" and "Live and Unveiled"  of which both are in the guitar/organ trio format, where he has staked his claim. He also concentrated on performing with the best Jazz Organists in the business including, Jimmy McGriff, Dr Lonnie Smith, Tony Monaco, Pat Bianchi, Seleno Clarke, Jimmy "Preacher" Robbins, Melvin Davis, Nathan Lucas, Akiko Tsuruga and others. 
His previous recording "Ex-hil-a-ra-tion and other states" for Motema Music, featuring Pat Bianchi on organ, Lawrence Leathers on drums, and  produced by the  Grammy award winning producer Jack Kreisberg, received rave reviews from those in the know , lasting 13 weeks on the USA Jazz Charts Top 50.  JC Stylles' Libran commitment to ensuring the balance of the important musical elements that makes for great jazz experiences for listeners, are what sets him apart from many others in the field today.   
With his most current release in 2014 being "Blakey Grease", he teams up again with Grammy winning producer Jack Kreisberg for an exclusive project on American Showplace Music, featuring a quintet line-up delivering an "all Art Blakey"repertoire in an organ combo setting for the first time in recorded history! "Blakey Grease" went on to win the highest debut slot at #15 in the USA Jazz Charts Top 50, then raced into the Top 5, settling at #4 in a hotley contested market, and exceeded 15 weeks in the USA Jazz Charts!
JC Stylles has since launched his own boutique brand of luxury headphones called "JC Stylles Opulears", that are now worn by some of the hottest Jazz talent performing today.
Guitarist JC Stylles is that rare artist who knows how to fire up a crowd with some relentless swing,  cool them out with a relaxed groove or a beautiful ballad, and then reignite the blaze with a burning tempo that only a full fledged master instrumentalist could conjure.  Veteran jazz guitarist Rodney Jones has championed  Stylles as a "keeper of the flame" and offers this high praise for his young descendant: "In an era where so little is genuine and real, JC has succeeded in capturing honesty and integrity, while swinging you to death. He shares his heart and soul and just plain makes you feel good. You can feel him in the notes and after all, that is what has always made the best jazz."
That knack for swing, groove and burn is evident on Stylles' July 12 debut for Motema Music, Exhilaration & Other States, which features the Australian-born, New York-based guitarist leading an invigorating B-3 trio comprised of veteran Pat Bianchi (Lou Donaldson, George Benson, Ralph Peterson Jr., Javon Jackson) and drummer Lawrence Leathers (Wycliffe Gordon, Mulgrew Miller, Cyrus Chestnut.)

Stylles has been exposed to "the best jazz" since the early days of his youth, which was spent in one of the most unlikely place to have nurtured a jazz musician: the rain forests of Kuranda, a small, predominantly Aboriginal town in the tropics of Far North Queensland, Australia.  There he soaked up the masters such as Coltrane and Parker via his stepfather's extensive jazz record collection, and there he also began playing guitar at the age of seven. He also studied clarinet and saxophone for a time, and went on to play in the local aboriginal band 'Mantaka,'  named for an historic Aboriginal settlement on the Barron River of Kuranda. 
For a white 'fella' to grow up so close to his Aboriginal mates is very uncommon in Australia, Stylles (known then as Jason Campbell) likens the experience to growing up in the deep south in the US in the 1950s or '60s and running with a multi-racial set.  The pains and pleasures experienced in those formative years are in many ways key to Stylles' deeply soulful approach to life and music.   
Moving to Sydney when he was sixteen, Stylles had the life-altering experience of attending every night of a weeklong engagement by George Benson, gazing in awe from front row seats at the guitar master, whose recordings had already made an indelible mark on the development of his own style.

In the succeeding years JC went on to study with a wide array of jazz giants as they passed through Australia on tour - such as Johnny Griffin, Woody Shaw, Miroslav Vitous and John Scofield – while working with his own groups and sharing the stage with some of his county's greatest jazzmen, including virtuoso multi-instrumentalist Errol Buddle and Jazz Messenger alumnus, saxophonist Dale Barlow.  But a successful career "down under" was not enough to keep Stylles from hearing the siren song of New York City. In 1992 he migrated to the Jazz Capital of the World, where he continued his studies with guitarists Pat Martino, Tal Farlow, John Abercrombie, Rodney Jones and bebop professor Barry Harris, further developing his skills working in the clubs around the city.

Returning to Australia for family reasons in 1995, Stylles spent the next decade enhancing his art and reputation by leading his own groups, settling on the guitar-organ-drum trio configuration as his primary means of expression.  Performing with his country's leading B3-ist, the veteran Col Nolan, he developed a hard-hitting style that has become the hallmark of all his units. With ten successful years as a bandleader under his belt he relocated permanently to New York in 2005, staking his claim as a leading organ trio guitarist, burning up stages from the Village to Harlem, releasing two fine CDs, Chillin' At Home and Live and Unveiled.

Stylles, who's now shared the stage with some of the world's greatest organ players, among them Jimmy McGriff (JC played the organist's final gig), Dr. Lonnie Smith, Tony Monaco, Jimmy "Preacher" Robbins,  Melvin Davis, and Brian Charette, has come to be known as one of the first call players when it comes to filling the guitar chair in a B-3 trio.

The group featured on Exhilaration & Other States is an outgrowth of Stylles' work with the Harlem Groove band led by Seleno Clarke, the soulful organist who has worked with the likes of George Benson and Grant Green.  It was during JC's four-year tenure, from 2006-2010, with Clarke at the American Legion Post Harlem on 132nd Street that he met drummer Lawrence Leathers. "He immediately made an impression upon me as a drummer who had something special," the guitarist notes. "He had a great sense of swing, combined with a touch that was hard to find in mature drummers, let alone drummers in their mid to late twenties. And above all, he had one thing that you couldn't ignore -- he listened and communicated."

Stylles tapped Leathers when he began a new Thursday night residency at Perk's Jazz Club in Harlem. Around that same time, Stylles heard a whisper go through the Legion Post one Sunday night that Pat Bianchi was in the audience. Stylles remembers, "Sure enough when the quiet, almost subdued, Pat graced the stage, he awoke the B3 beast in a manner which was almost scary.  He conjured all sorts of dynamic energy and ideas out of that animal that made you think twice about all its possibilities."  As fate would have it, Bianchi took over the organ chair at Perk's for the next 18 months, giving birth to the trio that would eventually be captured on Exhilaration & Other States.

During his Perk's residency, JC got serious about developing repertoire, engaging the audience by mixing a range of R&B and pop tunes with jazz standards. "We came up with jazz versions of Michael Jackson tunes and even versions of D'Angelo and R. Kelly tunes to keep the audience interested, and they would just go crazy.  Over time, we could play any room anywhere and be able to adapt the repertoire to fit accordingly."

Towards the end of 2009, the level of communication within the trio reached a point that JC wanted to capture. "We went into Showplace Studios in New Jersey with Grammy® Award winning producer Jack Kreisberg, and recorded 18 tunes in one day. Nine of those are included on this CD and the remainder are on hold for a future project. "

The disc gets off to a rousing start with the trio displaying its distinctive sound on  "Knucklebean." JC confesses, "I am a HUGE Bobby Hutcherson fan and he has been a major influence on me. This tune, written by Eddie Marshall, is from Bobby's album of the same name. I don't believe it's ever been recorded in the organ trio format."  The group plays this hip blues as a burner, faster than the original version, giving it a fire that all but burns through the speakers.

The arrangement here of Steve Wonder's "I Can't Help it," made hugely popular by Michael Jackson on his "Off The Wall" album, is a another product of Stylles' Perk's residency. "I had always loved this tune and kept hearing a fast straight ahead version of it in my head," the guitarist says. "The day Michael Jackson died, we were booked in the club." he recalls, "There were a lot of very sad people in the bar that night playing his tunes back to back on the juke box, so many that we literally had to wait till their money ran out before we played, so as not to cause a riot. One lady in particular was emphatic that we pay our respects to Michael. Her pleading inspired me to finally work out an arrangement with the band. We brought it in the following week and it turned out to be a big crowd pleaser.

Stylles was first introduced to "I Want To Talk About You" via John Coltrane's classic reading of the Billy Eckstine melody.  He says, "I had never heard a guitar version of it and having acquired a new custom Palen archtop guitar, I really felt this instrument had the ability to sustain and almost sing notes like no guitar I had ever owned. I honestly feel like this recording is probably the closest I've come to making a guitar sing with an almost vocal quality."

"Love For Sale" is one of the jazz repertory's most recorded Cole Porter pieces. JC fondly remembers, "The song became a great vehicle for Pat and me to trade and talk to one another on every Thursday night at Perk's, often with Seleno Clarke egging us on while we were playing. My last memory of the place is the great Lou Donaldson dancing around the stage while we played this type of energetic tempo. We must have been  doing something right!"

Somewhat ironically, JC confesses, "While I love playing fast tempos, I love playing very slow, deep ballads even more."  On Billie Holiday's "Don't Explain," Bianchi's soft restrained chords set the mood for JC's heartrending guitar narrative, spoken with a voice-like phrasing that brings the song's sad lyric to mind.

"Tune For Roger" is JC's favorite from the Seleno Clarke songbook.

Wayne Shorter's "Pinnochio" is another song that - to Stylles' knowledge - has never been recorded by an organ trio. "Rightfully so" he jests in his full blown Aussie accent, "because it is so very difficult to play. I don't know what we were thinking!"

"It Seems Like You're Ready," by R&B superstar R. Kelly, is the date's moodiest modern outing. JC testifies, "Very simply, this tune would send late night revelers at Perk's into a frenzy whenever it was played. It's difficult to find contemporary pop tunes that can be reworked to fit into the jazz genre, but I love the mood generated by this piece and it offers a bit of relief after the intensity of "Pinnochio."

Stylles closes the set with his original, "Samba Steps," which is based upon the chordal progression of  Coltrane's "Giant Steps" here played with a samba feel. It gives Leathers a chance to show his stuff while pushing Stylles and Bianchi, and the disc, to a rousing finish.
Not long ago the guitar-organ-drums trio seemed destined to become an almost forgotten relic of the jazz continuum, but it has recently been revived to once again take a prominent place in the music's landscape - one capable of expressing a panoply of emotions to a multiplicity of listeners with varied tastes.  JC Stylles is an important contemporary voice in the genre, moving it forward while preserving its rich history, blending yesterday and today for a more swinging tomorrow.